Our last Life Riders excursion was Monday, June 25th, out to Guernsey Farms Dairy in Novi for ice cream.  I had flashbacks to our Cold Stone Creamery ride a few weeks ago and made sure to save some calories for tonight's plan. Following several days of intense heat and humidity, the evening was cooler, and we rolled out of the Life Church parking lot at around 6:30pm, myself, Jim, Nikki, Tim and Tobi.  We headed out our becomingly familiar route:  Warren Rd. west to Beck Rd. north to North Territorial west to Mast Rd.  The setting sun shone it's warmth on our faces, and the shadows danced on the asphalt, disguising the potholes, though several stretches of the road were freshly paved.  We then turned north on Mast to where it dead ends at Strawberry Lake Rd.  We rode east again to Hamburg Rd, then around Whitmore Lake to 7 Mile.  It was a beautiful evening to be out on the bikes.  Hopping 8 Mile from Pontiac Trail, then north on Novi Rd.,  we descended upon Guernsey Farms Dairy, a place I actually never knew existed, though I've worked in Novi for the past ten years!  A popular ice cream spot, they also offer a restaurant and gift shop.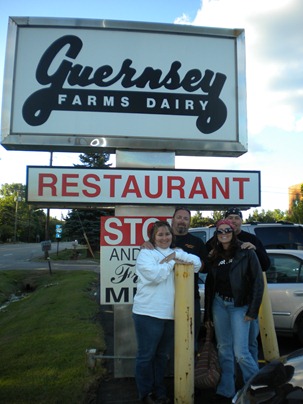 Guernsey's just happened to be next door to Border Cantina, which came highly recommended by Tobi. Plans changed, and we headed over to the restaurant for dinner instead, cutting through the bushes that separated the parking lots.  Border Cantina was a GREAT choice!   The food was fabulous and the five of us enjoyed each other's company, stories and laughs like five peas in a pod.  Not to mention the corn cake.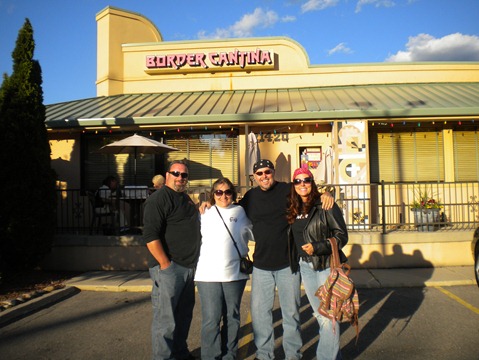 Finishing dinner, I think it was Jim who said, "So, who's ready for ice cream?"  I thought he was kidding.  Oh no, he was serious.  We squared up and headed back out into the late June evening, to see what Guernsey's had to offer.  Many, many, many delicious choices of hand dipped ice cream.  I had zeroed in on Superman until I saw Birthday Cake.  That was it.  Cold Stone's Birthday Cake Remix has ruined me forever.  Luckily, they had a small serving, which was probably still way too much, especially after Mucho Calorias, as Jim described dinner!
Stuffed and probably getting a few less miles per gallon, we took the shorter route home and hopped I-275 South into our hometown areas, waving our goodbyes as our small group split off.  Another fun ride with the Lifers!