We woke up to a very warm and steamy Iowa morning, again later than we intended.   After breakfast, gassing up and a few quick pictures of the surrounding fields from the parking lot, we continued west on I-80 from Walnut for a short distance to I-680 and then on to 29 north and into South Dakota.  From 29 north we would pick up I-90 west near Sioux Falls, and then the last 300 miles or so which would take us into Spearfish, our destination for the night.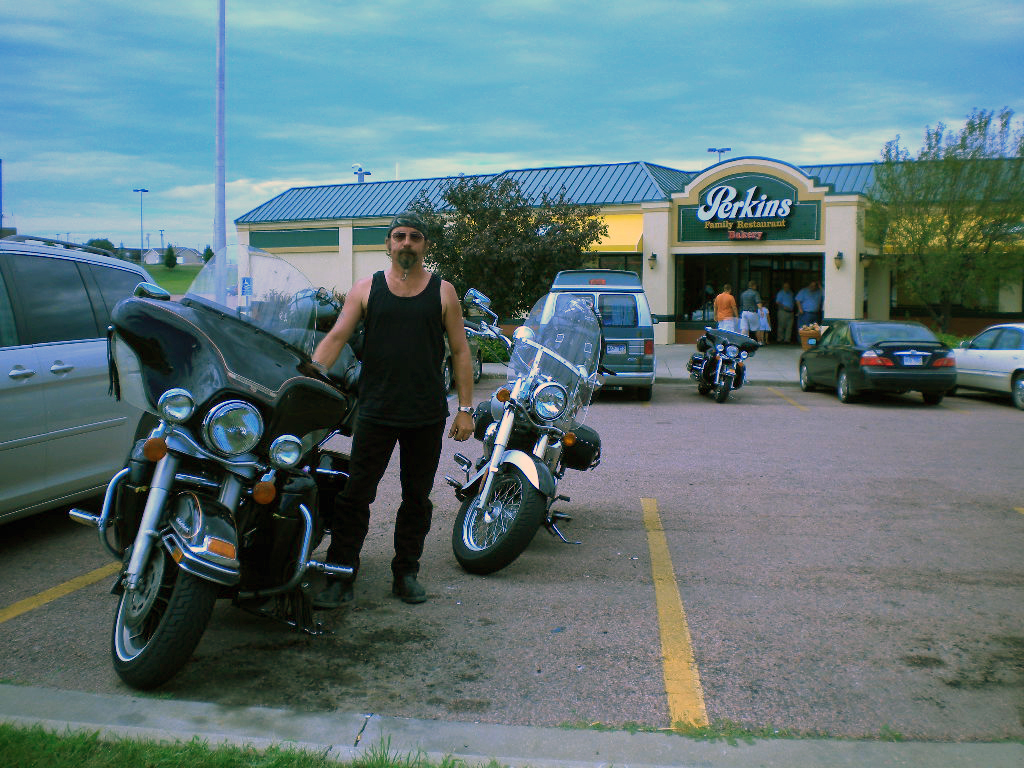 Stopping in Mitchell, SD for lunch at Perkins, (we have yet to visit the Corn Palace!) we met a group of people coming out of the restaurant, and the lady in front of the group greeted us with, "Welcome to Mitchell!"   Wow, some friendly folk here.   Perkins, as you will find throughout this trip, is a favorite of ours, and there is one right outside our campground in Spearfish which I'll cover in a later post.   We frequent that one location during our stay in Spearfish, and have fallen in love with their menu.  There aren't any here in Metro Detroit, the closest are in Kalamazoo, and also in Milan, OH, so it makes for a special place.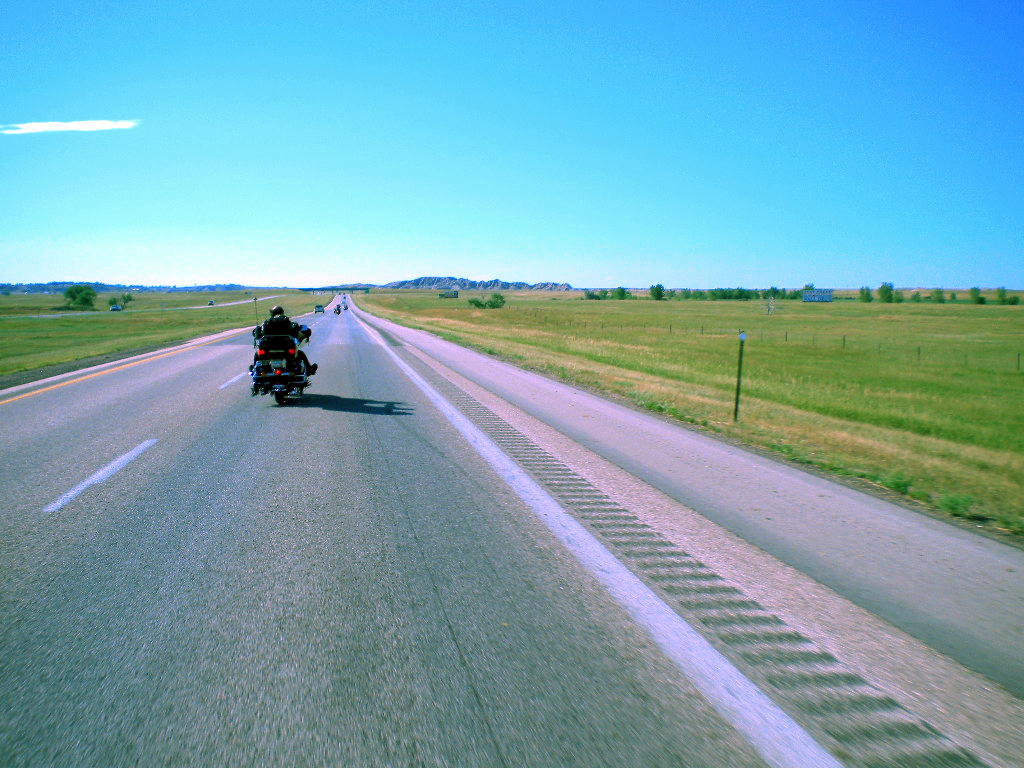 I-90 is when you really feel like you are heading to Sturgis, at least for me.  It's the last leg of the trip, from our direction, and it's now that you pass and are being passed by more and more other bikes, trailers and motorhomes.  The weather so far has been good, just very hot, well into the 90s.  Ocean Potion SPF 80 has become my best friend. 
We don't hit rain until Chamberlain, near the Missouri River.  This is my favorite part,  when the farms and cornfields give way to rolling prairie hills and cliffs.   The light rain feels like needles hitting any exposed skin, and we turn off into the Visitor Center before crossing the river to wait it out.  After 30 minutes or so we decide to continue on under the dark skies, and I suit up in my rain gear, which guarantees the rain will stop.  My rain gear is a set I bought years ago, actually for backpacking, and I now resemble a giant leaf bag going down the road.  Of course, it doesn't rain, and it warms up, so we stop again in Presho to stow my rain gear.
I-90 is a wide open straight shot across South Dakota, with very few and far between places to stop and take shelter in severe weather.  The wind can also be extremely strong, once on a previous trip we were passed by a guy with a sidecar, only the sidecar never touched the ground, just hung in the air as his bike sped by on an angle.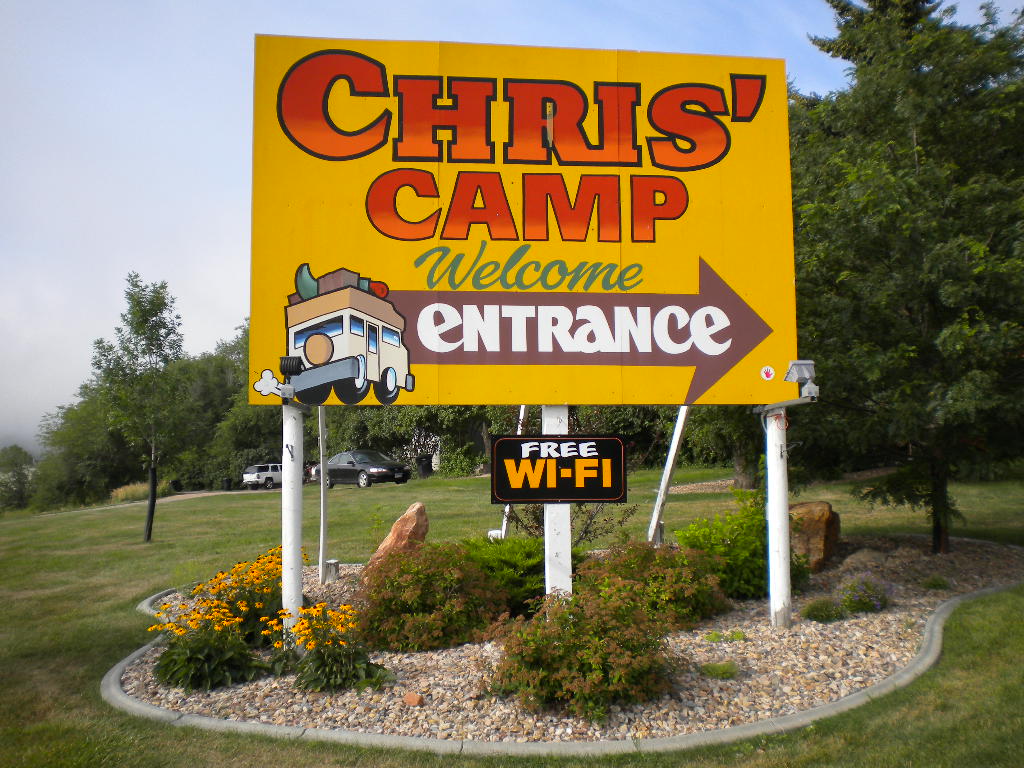 600 miles end the day, at Chris' Camp in Spearfish, just off  I-90 at Exit 14.  We stay at Chris' every time we come to Sturgis, it's a great campground with just about everything you'd need, plus a decent night's sleep.  For one night we camp here in the overflow with our friends, and in the morning we're off to Custer on Monday to get our marriage license and meet with our pastor, and check into our cabin at the Blue Bell Lodge.