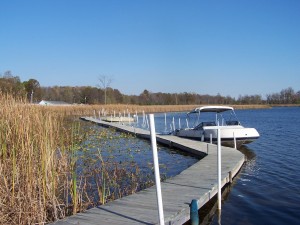 Another gorgeous fall weekend in lower Michigan, we packed up the camper early Saturday afternoon and headed out US-12 to Hillsdale where we had sites reserved at 6 Lakes Campground.  As we'd scoped out the route in late September, this weekend we would return with a group to go through Darksyde Acres, a haunted attraction in Jonesville.  It was parents weekend at Hillsdale College, and there was not a hotel room to be found, though luckily there were plenty of campsites available at 6 Lakes, and not too far away from our destination. 6 Lakes is right on 99 in Hillsdale, and has full hookup sites, a boat ramp, boat rentals, and a nice long pier which zig zags out into Boot Lake, connected to five other all sports lakes.  The campground also has wireless internet, for those with difficulty unplugging. 

Saturday topped out at 64 degrees, though it felt much warmer.   We set up camp, kicked back in the warm sunshine and waited for the rest of the group to arrive.  I put on a crockpot of cider, cinnamon and cloves to simmer (grog, as it was affectionately called), and we headed out to dinner at Saucy Dog's, in Jonesville, where we'd visited before.  The place was packed, (parents weekend!) but we got adjacent tables for our party of 11 and were in and out, for as busy as it was, and off to Darksyde Acres.
The Coney Hut, at the corner of US-12 and Concord Rd was my landmark, which of course I missed in the dark, so we took our three car caravan on a brief detour through the parking of a storage place, and we were back on Concord Rd., heading north to Mosherville Rd.  The entrance was on Mosherville, and we were guided into the parking lot by several flashlight wielding workers.
As with most attractions, the wait in line is by far longer than the experience.  This was the result of being put through in very small groups, two at a time for the most part.  This did add to the creepiness, and though overall I thought it would be scarier, one of the actors did spook a genuine scream out of me before we were back out into the clear October night.  We watched a brief round of Zombie paintball, (Kassandra, my brother-in-law's girlfriend is a great shot!) and returned to camp to finish out the evening.
The grog was ready, the fire was started and we settled in for a night of conversation and laughs, going into the wee hours.  On Sunday, we said our goodbyes and headed home, afternoon riding plans already taking place in my head.  Since we didn't get on the road until 1pm, we decided on a familiar route, Hines Drive to Seven Mile Rd. to Beck to North Territorial and back.  Although we'd been down these roads countless times, we didn't have the full day to explore unfamiliar territory.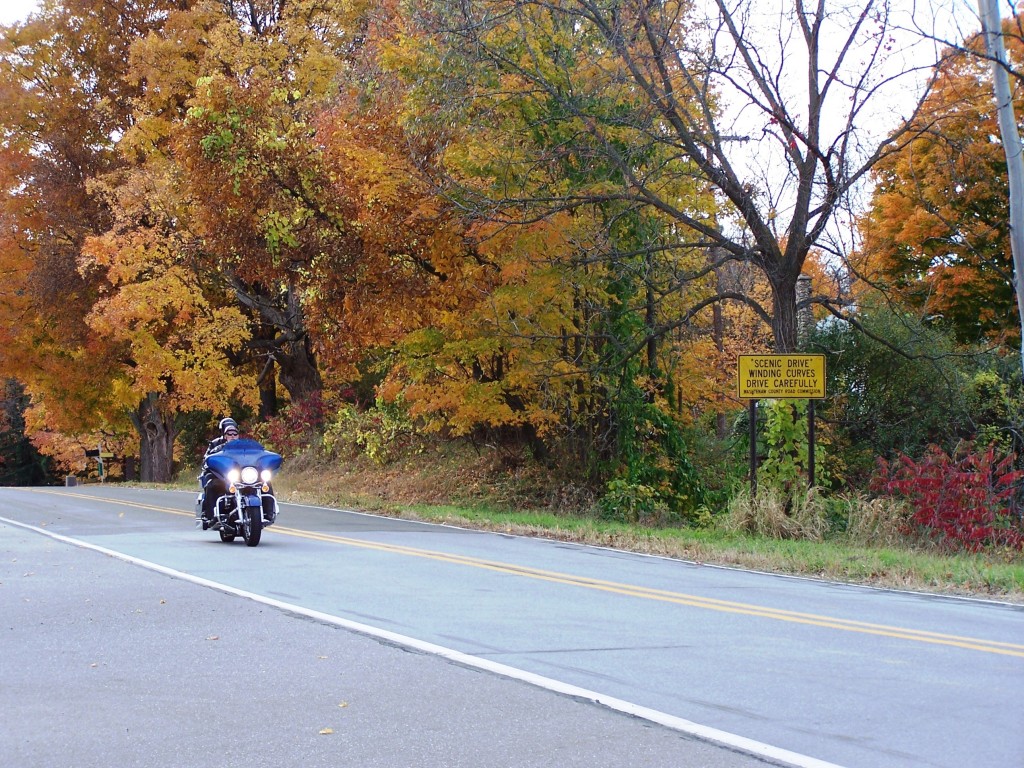 As I was sure the cider mills were jammed on a day like today, there were many bikes on the road, soaking up this last bit of Indian summer.  For October in Michigan, this was heaven.  Cold and rain are much more common this late in the season, and I remember years that we've had snow flurries before Halloween.  Of course, I was plugged in and basking in the warmth of my heated jacket and gloves as we glided down the country roads, some of the trees vibrant with fall color, a mix of reds, yellows and orange.   Next weekend another Halloween campout is planned, and the next is Halloween!   Fingers crossed this wasn't the last ride of the season.