I was really looking forward to taking a vac day and hitting the renowned Ann Arbor Art Fair, to visit a friend whose work is on display, visit the photography booths, and take some photos of my own.  Luckily it was not as hot and humid as the day before, when the mercury was still at 100 degrees at 7pm.   I almost did NOT bring my camera to the fair because the humidity was so high, concerned that it would be damaging.  So I consulted the almighty Google and found this article regarding DSLRs and high humidity.  I decided that I'd be okay with just one prime lens.
About ten-ish I met up with my friend Kim for breakfast and we then took the shuttle from Briarwood Mall, and we began our trek through the crowded city streets.  I had planned to meetup with another friend who works in Ann Arbor, so at noon I pinged my friend Rebecca and the three of us headed to Mark's Carts for lunch.  Super, super cool idea, (thanks Kim!)  Mark's Carts is an awesome little venue comprised of several food vendors set up in between buildings not far from Sweetwater's.  Though hot, it was still a beautiful day to sit outside on picnic tables under stretched canopies and listen to music from Me & Ryan, a very talented acoustic duo.
We continued on after lunch to Hollander's School of Book and Paper Arts, an incredible store in the historic Kerrytown Shops.  Downstairs they hold workshops of all kinds and the people there were amazingly welcoming and offered to let us create.  Kim jumped in and made a cool postcard while I, lacking all creativity, captured some shots.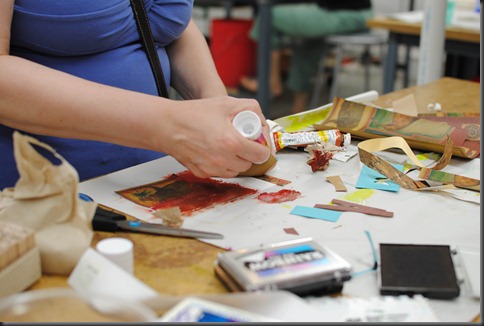 She was done in about five minutes and her postcard looked awesome..  I would still be there right now with a blank piece of paper and a blank look on my face.
Next up was Downtown Home and Garden, where I immediately spotted Lewis, the most precious sleeping kitteh, who also graces their website.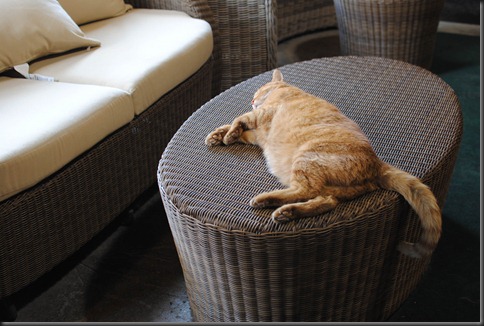 The store was originally a livery stable and feed mill and is now carries garden supplies, classic housewares, and gourmet kitchenware.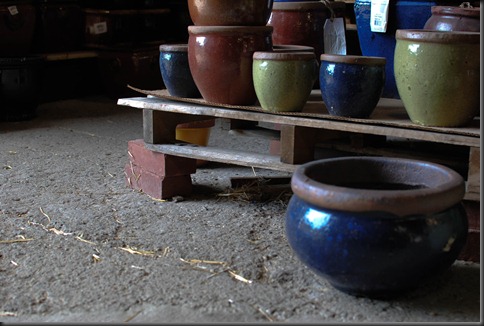 Cool place..
Onward to the Art Fair itself, it wasn't long before the skies turned dark and the weather that had been predicted, was looming.  Crossing the street, I caught a glimpse of the dark, rolling clouds, and had to stop in traffic for this shot.  A bit later, the skies opened up and we took shelter in a doorway of one of the university buildings, waiting for the rain to let up.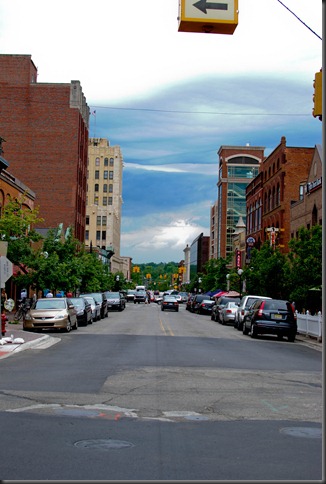 I consulted the map to find booths 157 and 158, where my friend Lori was there displaying her gorgeous line of jewelry, Del Sol Design (loribcreative).    Lori was there with several other extremely talented artists from the Michigan Silversmiths Guild.  Her line of Girlies was on display with other pieces of her jewelry.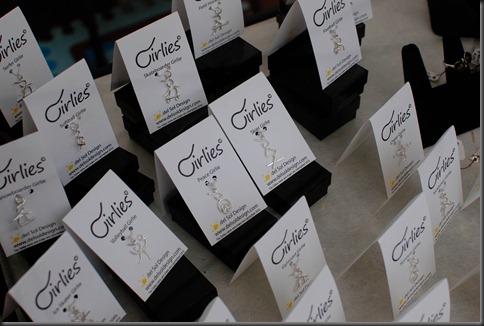 After watching a molten pewter demonstration by another artist, we continued on through the fair, stopping at booths, browsing photos, jewelry, pottery and glass.  And this really interesting piece of art.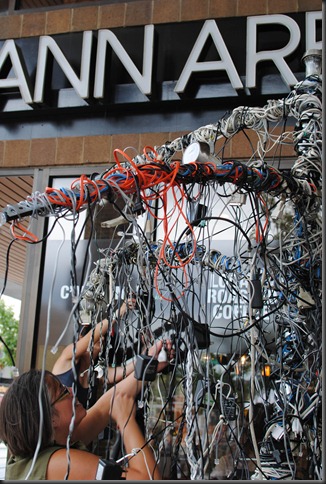 And this interesting scene..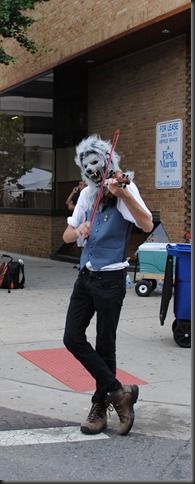 Later, we stopped for dinner at the Pizza House, taking refuge from the hot summer air that felt even more humid after the rain.  My feet were really started to ache by now, and I, along with every other art fair attendee, needed a shower.  I had gotten a decent amount of photographs throughout the day and was really looking forward to viewing them later that night.  More photos along, with my other work, can be found on my Photography page.
Until next year!